Bending the Arc of History Toward Justice
Date:
Tuesday, January 25, 2022
Location:
Pacific Club | 4110 MacArthur Boulevard | Newport Beach 92660
Speaker:
Terrence M. Franklin, JD, Partner @ Sacks Glazier Franklin & Lodise, LLP
Registered for this event? Login now to view additional event details.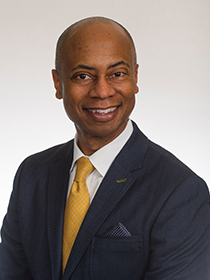 Terrence Franklin had been a trust and estate litigator, handling disputes including will contests for a quarter century, when he discovered a will contest from the 1840s that challenged the will done by his white fourth great-grandfather that emancipated Terrence's fourth great-grandmother and her children and grandchildren from slavery. This discovery led Terrence to define his mission, "To Bend the Arc of History Towards Justice" by sharing the story of his ancestors and other stories like them. In this presentation, Terrence recounts the riveting story of his ancestor Lucy Sutton and the fight in the courts to uphold the last will and testament, and he also profiles several other black women, contemporaries of Lucy, who just may have helped Lucy and her family make it to freedom."
Terrence M. Franklin is a seasoned attorney with nearly three decades of experience handling trust and estates and probate litigation, disputes and appeals. His breadth of experience underscores the firm's long-standing reputation and the reason clients turn to the firm for complex cases involving significant dollar amounts.
Mr. Franklin has extensive trial and appellate experience, including successful published appeals and the landmark Moeller case, which was brought before the California Supreme Court. 16 Cal. 4th 1124.
Mr. Franklin is a member of the Diversity Committee of the American Bar Association (ABA) Real Property, Trust and Estate Section; Estate Planning Advisory Panel member for American Law Institute Continuing Legal Education; former Council Member and Supervisory Council Member for the Litigation, Ethics and Malpractice Group; Former Vice Chair of the Practice Group Management; and Former Chair of the Ethics and Malpractice Committee.
Click here for more information.
---
MASK MANDATE: The Governor's indoor mask mandate has been extended through at least February 15, 2022. Specifically, the California Department of Public Health is requiring masks to be worn in all indoor public settings, irrespective of vaccination status. Except while eating, masks must be worn at all times during the OCEPC meeting.
---