Planning for Privacy in a Public World
Date:
Tuesday, July 23, 2019
Location:
Santa Ana Country Club | 20382 Newport Boulevard | Santa Ana 92707
Speaker:
Jeff Chadwick of Winstead PC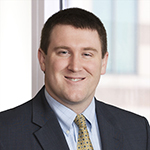 As public access to information increases, clients are seeking solutions to protect their privacy and personal security. After taking a live visit to the "dark web," this session will discuss how the professional advisor can structure estate plans, charitable gifts, and financial transactions in a confidential manner to better protect clients against physical and cyber-attacks.

Note: This program also qualifies for 1-hour of continuing education credit for Attorney, CPA, Professional Fiduciary and Trust Officers. This presentation is pending 1-hour CE with the CA Department of Insurance, and 1-hour CE with the Certified Financial Planners Board of Standards.
---
Meet Our Speaker:
Jeff Chadwick, Shareholder, is a member of the Wealth Preservation Practice Group with offices in Houston and The Woodlands. Jeff focuses his practice on trust andestate planning for business owners, corporate executives, professional athletes, and other high net worth individuals and families. He strives to provide innovative and practical solutions to a wide range of legal matters, including wealth transfer planning, trust and estate administration, businessformation and succession, asset protection, charitable giving, and premarital planning.
Jeff is a frequent speaker at estate planning seminars around the country and is an active member of many professional organizations. He also serves oncthe Texas Trust Code Committee, where he monitors trust issues in Texas and drafts legislation for inclusion in the Texas Trust Code.
Before settling in Texas, Jeff began his career in Richmond, Virginia. Jeff has maintained his Virginia law license and regularly counsels clients transitioning from Virginia to Texas, or vice versa, with regard to their estate planning matters.
---
Dinner Meeting Sponsor