Beneficiary Defective Inheritors Trust: Creating New Planning Opportunities
Date:
Tuesday, July 28, 2015
Location:
Santa Ana Country Club | 20382 Newport Boulevard | Santa Ana 92707
Speaker:
Michael W. Halloran, CFP(r), AEP(r), ChFC(r), CLU,(r)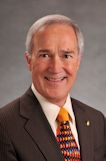 The Inheritor's Trust is one of the most powerful estate, tax and asset protection strategies available to planning professionals. Essentially, it is a third-party settled trust designed: (1) to give the client (who is both a trustee and the initial primary beneficiary of the trust) control and beneficial enjoyment of trust property such that the client can use and manage the trust assets without compromising the trust's ability to avoid transfer taxes at the client's death, and (2) to protect the trust assets from the client's creditors. Michael will explain the facts and strategies needed to create new planning opportunities for your clients.
Strategies to be discussed, include:
■ The Beneficiary Defective Inheritor's Trust ("BDIT")
❖ The typical Inheritor's Trust
❖ Super-charging the Inheritor's Trust
❖ Note sales to trust you control and enjoy
■ Estate Planning With "Disregarded Entities"
❖ Defective trusts on steroids
❖ QPRT substitutes
■ Changing Value Conundrums
❖ LLCs and FLPs create three sales opportunities
❖ Revisit old and find new clients
---
Michael W. Halloran is a Wealth Management Advisor with Northwestern Mutual and has been in the financial services industry for over 40 years. Mr. Halloran guides clients in reaching financial security from every aspect through long-term relationships that are based on value and integrity. He is committed to providing comprehensive, integrated financial plans that reflect the clients' values and support their lifelong goals. Mr. Halloran can be reached through his website www.mike-halloran.com, by phone (877) 851-8242, or email mike.halloran@nmfn.com.