How Much Is Enough?
Date:
Wednesday, September 28, 2022
Location:
Pacific Club | 4110 MacArthur Boulevard | Newport Beach 92660
Speaker:
A. Charles Schultz, JD, AEP®, President/CEO, Crescendo Interactive, Inc.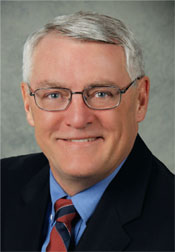 This month only, we are meeting on a Wednesday (due to the Rosh Hashanah holiday Sept. 25-27).
Many parents with midsized and larger estates would like to benefit children with an inheritance. We do not give inheritance to children to make them worse persons, but in the hope that they will become better persons. Quite often, parents who have midsized to large estates can transfer a substantial inheritance. But the parents ask the question, "How much is enough?"
Notes: This program qualifies for 1-hour of continuing education credit for Attorneys, CPA's, Planned Giving Specialists and Professional Fiduciaries. This program is has been submitted to ABA Professional Certifications (CTFA), and the CFP Board of Standards for 1-hour continuing education credit review and is pending approval. This program does not qualify for Life Insurance continuing education.
---
Charles Schultz, JD, President/CEO, Crescendo Interactive, Inc. is a California attorney who specializes in charitable giving and estate planning. He is President of Crescendo Interactive, Inc. and is the principal creator of the GiftLegacy Pro eMarketing System. In addition, he is Editor for the GiftLaw Pro charitable tax service and the weekly GiftLegacy and GiftLaw eNewsletters.
Charles writes, speaks and publishes extensively. He teaches over 30 planned giving seminars per year and is President of GiftCollege.com, an Internet education program for gift planners and professional advisors. He also serves as Executive Director of GiftAttorney.com, an association of attorneys with charitable receptivity. His law degree is from the University of Michigan. Charles is on the Board of Directors for the Christian Foundation of the West.
---
Dinner Meeting Sponsor