DOL's Fiduciary Standard: How our Values Stay the Same and our Practices Transform
Date:
Tuesday, July 26, 2016
Location:
Santa Ana Country Club | 20382 Newport Boulevard | Santa Ana 92707
Speaker:
Richard M. Weber, MBA, CLU, AEP (Distinguished)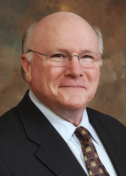 The Department of Labor (DOL) has just finalized rules turning most advisors and producers into fiduciaries, at least with respect to advice and transactions involving retirement plan resources. Estate Planning Council members are professionals in law, accounting, investments, banking, trust and insurance - and as a matter of professional commitment put their client's interest above their own. But now they must follow very specific rules and - at the end of the day - PROVE they have followed processes and procedures that support their intentions. This presentation reviews the new rules and provides guidelines for recognizing when the fiduciary duty is required, what must be done to meet those rules, and a basis on which the professional can evaluate their business model to determine what must change.
​*This presentation qualifies for 1-hour of CE for the following disciplines: Attorney, CPA, CSPG, CTFA, and Fiduciary. This presentation has been approved for 1-hour of CE with the California Department of Insurance (Life Insurance Agents); Course Number: 339391, and the CFP Board of Standards; Course Number: 228554.
Speaker Bio: Richard is Past President of the Society of Financial Service Professionals - and with 47 years of experience in sales, training, product design, marketing, compliance, and insurance company senior management - Dick provides training and consulting services that help empower life insurance producers, financial planners, advisors, and their clients to explore and view life insurance in the broader context of financial planning. His consulting firm, The Ethical Edge, Inc., is located in Pleasant Hill, Ca.
Among Dick's accomplishments are: Estate Planning Hall of Fame – The National Association of Estate Planners & Councils – Accredited Estate Planner – Distinguished; Immediate Past President – Society of Financial Service Professionals (including JD, CPA, CFP, CLU, CTA, CFA - among others - of 12,000 members); Professor of Risk and Insurance – Cal Lutheran University Graduate School of Business; Insurance agent 1967 – 1992; "Home Office" senior management and software development 1993 – 2001; Insurance Fiduciary 2002 – present; "Life Insurance as an Asset Class" – 2008 Best Research Paper – Academy of Financial Services (co-authored with Christopher Hause, FSA, MAAA, CLU).
​JULY DINNER SPONSOR